Company Profile
About "KETAV CONSULTANT"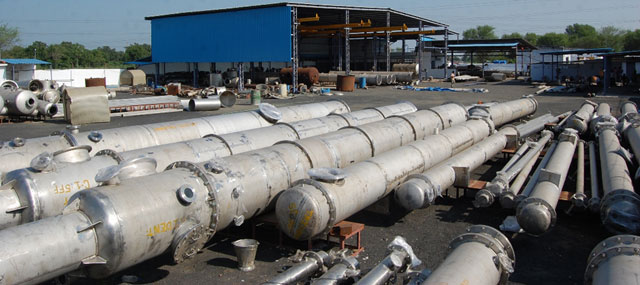 KETAV CONSULTANT is a well Established and growing Enginreeing company which was found in 2005.
KETAV CONSULTANT has achived commendable success in Designing, Manufacturing,installing and commissioning of Multiple Effect Evaporator Systems in short span of time.
The company provides all kind of Oprational and Process Solution related to different industries. This result i Cost and Energy Efficient System.
We have leading service provider for Desing,Engineering,Manufacturing and supply of Turn Key Project for Multiple Effect Evaporation Plant for Zero Liquid Discharge System and Product Concerntration System.
KETAV CONSULTANT has installed more than 200 Evaporators for Different type and applications.The company has also Supplied other system like Vacuum System,Heat Exchangres,Ejectors,Condensers and other Equipments.
Head office & Workshop located at Ahmedabad.
Branch office at Hyderabad, Tamilnadu, Mumbai, Ankleshwar & Punjab.
Achievement of "KETAV CONSULTANT"
We have Supplied Maximum Plants in india.For Common Effluent Treatment Plants.For Tannery & Textiles Industry. Supplied-09 NOS Plants in Last 03 Years in Tamilnadu.
We have Supplied Maximum Plants in india.For Textile & Dyeing Industry. Supplied-80 Plants in Last 08 Year.
We have Supplied 18 NOS Plants in Pharmaceutical Industry
We have Supplied Products Concerntration Plants in India.For different types of Products.Supplied-35 NOS Plants.
We have Supplied MEE Plant for Dyes & Dyes intermediate,Pesticide, Organic Chemicals,Steel Industry Etc. Supplied -30 NOS Plants.
We have done successfully revamping and improvement of Multiple Effect Evaporation Plants Supplied by Others Manufacture.For Increase the Capacity & Smooth Operation. We have done 23 NOS Plants revamping
Application of Multiple Effect Evaporation Plant in Different industry for Different Products.
Waste Water Treatment
R.O.Reject
Mix Salt Recovery
Pharma Industry Waste Water
Automobile Industry Waste Water
Food colour Industry Waste Water
Chemical and Organic Chemicals Waste Water
Common Effluent treatment Plants
Dye Bath Water
Spent Wash
Steel Industry Waste Water
Product Concertration
H2So4 Concerntration
HCL Concerntration
Nitric Acid Concentration
Dextrose & Glucose
Amino Acid
Sodium Formate
Dairy & Food Products
Milk
Food Colour
Herbal Extract
Sugar Cane Juice
Fruit Juice
Tea/Coffee Extract
Chemical Salt Recovery
Zinc Sulphate
Sodium Sulphate
Sodium Nitrate and Sodium Nitrate/li>
Ammonium Sulphate
Caustic Recovery
Magnesium Sulphate
Sodium Chloride
Sodium Thio Sulphate
Multiple Effect Evaportor Plants
Falling Film Evaporators
Forced Circulation Plants.
Electric Evaporator Plants.
natural Circulation Plants
Capacity Range:10kg/hr to 60000kg/hr. System:Single Effectto Five Effect or more.
Agitated Thin Film Dryer
In this System a thin layer of solution OR Mother.Liquor of waste water is spread on the heating surface of the ATFD inner Shell.
In Jacket apply Steam for Heating of the same Liquid.
Solid OR Powder is coming bottom side having 10to15% Moisture
Dstillation Plants
We also supplied distillation plant for METHANOL OR other Solvents recovery.
Stripper Systems
In Stripper System recover the low boiler from the top of the colum.Used to reduce COD from Feed.
Before taking feed to MEEplant Used to recover Low Boiler Solvents.
Vacuum Systems
Used to creat vacuum in theDistillation,Rectors,Evaporators, CrystallizersmVaccum Dryer,Nutch Fillters Etc in all type of the industry.
To achieve vacuum 450mmHg to760mmHg.
1. Liquid Jet Ejector
2. Steam jet Ejector
Heat Exchangers & Condensers
Heat Exchangers are used in alltype of the industry to transfer of energy in the form of heat from one Fluid to another Fluid
1. Shell & Tube Heat Exchangers.
2. Plate Type Heat Exchangers.
3. Condensers.-Shell & Tube Type and Direct Contact Type.
Crystallizer System
Crystallization is used for the Production ,purification and recovery of solids.Crystalline Products have an attractive appearance,are free following,and easily handled andpackaged.
We have supplied crystallizer for products like:Sodium Sulphate,Sodium Chloride,Sodium Thio Sulphate,ZincSulphate,MgSo4,Sodium Formate,AmmoniumSulphate,Ammonium Chloride etc.
Centrifugal Pumps
We are Manufacture and Supplying Centrifugal Pumps for Process application for Evaporation Plants,Cooling Towers Etc.For Different application in all type of industry.
Vacuum Pumps
We are Manufacturing all type Water Ring Vacuum pumps.In Different MOC.Used to Creat Vacuum From 680mmHg to 720mmGg.
Type : Single Stage & Two Stage Water Ring Vacuum pumps. Range Available : 01HP to 60HP
High Pressure Pumps
Available in Range from 02 HP to 60 HP. Pressure Range From 10kg/cm2 to 600kg/cm2. Used in the Cleaning of the Tubes of Evaporator plants,Heat Exchangers,Condenesers,Boiler Etc.
Mechanical Vacuum Boosters
Boosters are increasing the vacuum of process.Vacuum Booster can be used over a wide workin Pressure from 100 Torr to 0.5 Torr with suitable arrangement of the backup pumps,
1-Can be integrated with anyinstalled vacuum system like Ejectors, Vacuum pummps,etc.
2-Vacuum Boosters are power Efficient
Waste Water Treatment Systems
All type of Waste Water Treatment available to achive Zero Discharge of the Waste Water.
1. ETP plant.2.Sand Filters.
2. Activated Carbon Filters.
3. Softner Plants.RO Plants
Waste Water Treatment Chemicals
we are also manufacture are supply following Chemicals,it is widely used in the Waste
1. De Scaling Chemicals.
2. Anti Scalling Chemicals.
3. Anti Foaming Chemicals.